This official University College Cork website is a critical online research resource on Irish writer Frank O'Connor. The site serves as a high-standard source for primary and secondary material for academics and students. It also provides information on current UCC research projects on O'Connor.
The website is funded by the College of Arts, Celtic Studies and Social Sciences in UCC, and was created in collaboration with UCC's Boole Library and School of English. It is designed to deliver accurate information about O'Connor's life and publications, and about O'Connor Studies at local, national and international levels. The site also provides rare photographs, audio recordings, video clips, news, and information on related online sites.
UCC is in the fortunate position of having a substantial and important Frank O'Connor Archive and the website details the archival collection, while also profiling correlating UCC Library collections.
Since Frank O'Connor's untimely death in 1966 his widow, Harriet O'Donovan Sheehy, has been a passionate advocate in the management of the Frank O'Connor Estate. Earlier this year, UCC bestowed an honorary doctorate on Harriet in recognition of her benevolent support for education. By her donations to Boole Library, she has provided original resources of manuscripts, rare books and specialist archival material. "She has entrusted to UCC the custodianship of this important part of Ireland's priceless literary heritage, thereby rendering UCC a destination of choice for all serious scholars of the short story, O'Connor, and Irish Studies", said Professor Caroline Fennell, Head, College of Arts, Celtic Studies & Social Sciences, UCC.
This website not only offers scholars a rich resource for Frank O'Connor Studies, it correspondingly makes available research information on such areas as Short Story Studies and Irish Studies.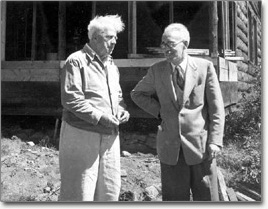 O'Connor and Robert Frost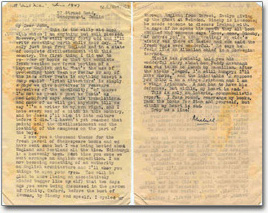 Letter from O'Connor to John Kelleher