This website was made possible with the financial support of UCC's College of Arts, Celtic Studies and Social Sciences (CACSSS). In particular, deep gratitude is owed to Professor Caroline Fennell, Head of CACSSS, for her instrumental support of the research website and for her continued interest in the UCC Frank O'Connor Archive. A special word of thanks is owed to Virginia Teehan, Director of Cultural Projects and Humanities Research Support, CACSSS, for her commitment to the project and for her invaluable support of O'Connor Studies; many thanks also to Professor Graham Allen, Vice Head of CACSSS (Research), for his much appreciated support and interest.
Grateful thanks are also owed to the School of English and UCC Boole Library. Professor Patricia Coughlan, Acting Head of the School of English, very generously gave of her time and actively supported the project; Anne Fitzgerald was unfailingly helpful and supportive. Thanks also to all the staff members of the School of English for their much valued support and interest in O'Connor Studies. John Fitzgerald – Head of Boole Library, Crónán Ó Doibhlin – Head of Special Collections, Boole Library, and Carol Quinn – Archivist, Boole Library: each played a significant role in the creation of this website and the project is indebted to them.
Many thanks also to the team members of the O'Connor radio research documentary, Dr. Barry Monahan (Film Studies/School of English) and Dr. Ger Fitzgibbon (School of Music and Theatre), for their patience during the completion of the website, as well as their extremely helpful comments and suggestions. Professor Colbert Kearney (UCC), Professor Michael Steinman (Nassau Community College, New York) and Carol Quinn were actively involved in the development of an initial UCC O'Connor website in 2008 and the new site is strongly beholden to their pioneering work.
This website could not have been completed without the kind assistance of Eugene van den Huck and Maurice Ryder, UCC IT services. Very special thanks to the site's web developer, Conall Ó Murchadha, for his work and commitment to the project.
It is particularly apt that this is an official UCC website as the university holds a special position in relation to Frank O'Connor Studies. By her generous donations to UCC Boole Library, Harriet O'Donovan Sheehy has provided original resources of manuscripts, rare books and specialist archival material. In addition to Harriet's bequests to the university, many thanks are also owed to her for constant courtesy and enthusiasm, and her perceptive commentary, when dealing with all queries during the creation of the website. The university is deeply grateful to Harriet for her enduring support of O'Connor Studies in UCC. Finally, O'Connor's daughters, Liadain and Hallie Og O'Donovan's committed involvement and attention to the project was very much appreciated and the university is truly obliged to the entire O'Donovan family.
Dr. Hilary Lennon,
School of English,
College of Arts, Celtic Studies and Social Sciences.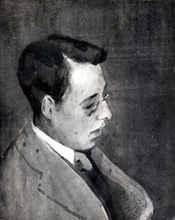 Watercolour of O'Connor by writer Daniel Corkery, 1926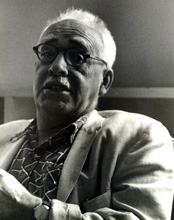 Frank O'Connor at Stanford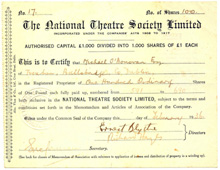 Certificate of O'Connor's shares from the Abbey Theatre