Frank O'Connor as Literary Critic
Remembering O'Connor, Thomas Flanagan wrote in 1966:
His enthusiasms and aversions were numerous and intense—James Joyce, eighth-century Ireland, Chekhov, Jane Austen, pedants, the present Abbey Theatre, public figures foreign and domestic, the Church, professional patriots, the "forged" (as he thought them) Casement diaries, manuscripts and old books, eighteenth-century Ireland, the Board of Censorship, compulsory Gaelic, the ruined abbeys of Connaught and Munster, his native city of Cork, Celtophobes and Celtophiles, schools which mistreated children, the operas of Mozart. My role, I discovered, was to offer unrelenting dissent, no light task when walking full tilt: in his youth, as a member of the Irish Republican Army, he had spent months on the run and had never really slowed down. Moreover, he could argue any issue with the wiles of Odysseus, and his brief, vivid rages were magnificent. "He was like a man who takes a machine gun to a shooting gallery," Sean O'Faolain has written. "Everybody falls flat on his face, the proprietor at once takes to the hills, and when it is all over, and you cautiously peep up, you find that he has wrecked the place but got three perfect bull's eyes."
On W. B. Yeats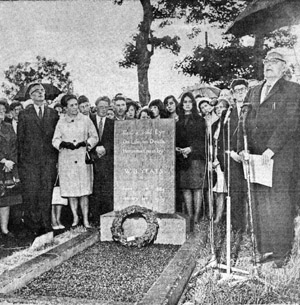 What was the secret of Yeats's greatness? That he was a great poet? I don't think he was naturally a great poet, though he made himself one. I feel sure he made himself one because he had an unusually fine intellect. Not an analytical intellect at all; a synthesizing one. He was the only man I have ever met who from two fallacies and one bit of nonsense could evolve a theory which worked, and worked in relation to a system of other theories, so that it illumined other things besides. He was the first man who showed me that any theory of life, provided you do not let it madden you, is likely to contain more truth than any amount of unrelated facts.
Radio talk, 4 May 1947
On James Joyce
Proust and Joyce were the heroes of my youth, but while Proust's work has continued to grow on me, Joyce's has lost its charm. The reason may be that I know too much about it. The reason for that may be that there is far too much to know.
The weakness of Joyce's does not begin with Finnegans Wake. It begins with his first book of fiction. It may be that the earlier stories in Dubliners are plain sailing; to me the later ones at least are exceedingly difficult to understand, and I can only admire critics who blandly profess to interpret them.
"Ivy Day in the Committee Room" . . . is remarkable for a certain apparent looseness of texture which is almost a new thing in literature. Events seem to occur merely as they would occur in everyday life; people drift in and out; there is no obvious design, and yet the story holds our attention. As a story-teller, I am impressed by the achievement, but at the same time it is clear to me that the casualness is only apparent. To begin with, the form is based upon political comment that emerges from a ground bass of booze. Everybody in the story is talking of drink, and the crisis, such as it is, when Mr. Henchy's mood mellows and he calls Hynes by his Christian name, is the result of the dozen of stout. The parallelism between King Edward and Parnell, "the Uncrowned King of Ireland," is clear, though the repeated references to "fathers"—human fathers, holy fathers, and City Fathers—I do not understand.
The Mirror in the Roadway
On Shakespeare
Othello is the first play in which the excess of personal emotion which we notice in Hamlet is allowed to swing the action, and in Lear it rages like the storm. These two plays are among the greatest dramatic poems in the world; they are the work of a stage-hand whose skill is almost supernatural; yet they seem to me failures.
First of all, we must dismiss the idle speculation which finds in Othello's jealousy a key to Shakespeare's gloom. The flightiness of Cressida, the facility of Hamlet's mother, the doubts of Desdemona's virtue, do not mean that Shakespeare had met with another Dark Lady. They are part of a general abandonment of human values, aspects of a despair with human existence which can only be described as misanthropy.
The technical trouble with Othello is that it is high tragedy based on the scenario of a comic opera. It is not improved by Shakespeare's treatment, for in his source he had plenty of motive for Iago's conduct, had he chosen to use it, but he did not, and left Iago, like Richard III, a mere inexplicable figure of evil. The handkerchief is a motif from court comedy; Portia's ring all over again, and quite insufficient to support the weight of the tragedy he builds on it. The scene in which Othello overlooks a meeting between Iago and Cassio and translates Cassio's gestures and laughter into a comment on his supposed affair with Desdemona is another and cruder example. In court comedy it is possible that it might pass muster as a bit of good-humoured extravagance, but the convention is farcical, not tragic. The curious staginess of these tragedies reminds me of Hardy's novels, and the purpose seems to be the same. Shakespeare puts the Almighty on trial for murder and then fakes the evidence.
The Road to Stratford