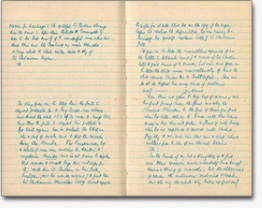 University College Cork's Boole Library is fortunate to hold a number of collections which contain original archival material relating to the Cork-born author Frank O'Connor. The holdings have been built up over a number of years, thanks to the generosity of a number of people, most especially Harriet O'Donovan Sheehy, Liadain O'Donovan, and Prof. John V. Kelleher.
The archive, comprising of a number of individual collections, includes mss notebooks in which O'Connor drafted ideas for his stories, original letters, mss writings, annotated tss copies of the stories, correspondence with his literary agents and publishers, research notes and personal memorabilia.
The Library also hold the personal archives of some of O'Connor's contemporaries, including his early mentor and short-story writer Daniel Corkery, life-long friend and Cork amateur actress Nancy McCarthy, and material relating to his fellow short-story writer, Sean O' Faolain.
Associated collections held by UCC Library of interest to scholars and students of O'Connor's life and works include: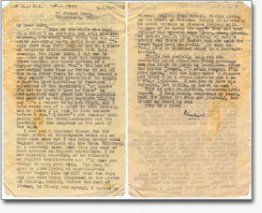 The collections are listed in accordance with the International Standard for Archival Description (ISADg)
Access
UCC Library, through its Archives Service, is dedicated to helping preserve archival material, whether manuscript, photographic or digital, which can assist in the understanding of our heritage and the forces which shaped modern Ireland.
Access to this material is via the Library Archives Service. Full contact details and opening hours are available here.
As an active collecting repository, UCC Boole Library is continually adding to its O'Connor holdings and associated material relevant to the study of the short story.
Book Collections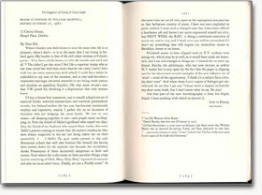 UCC Library has been active in building up as complete a collection as possible of the published works of Frank O'Connor, especially first editions of his works and limited editions. Access to the holdings is via the library catalogue and this can be searched here
The bulk of Frank O'Connor's personal library was gifted to UCC by his widow Harriet O'Donovan Sheehy, and is searchable through the main UCC Library catalogue here