O'Connor's Reputation
by Prof. Michael Steinman
Nassau Community College, New York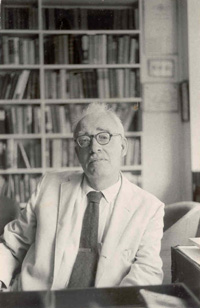 Readers may informally assess an artist's standing in many ways – sales figures, books in print, translations into other media and other languages, what is often termed "popular recognition" – but forty years after his death, O'Connor's writing is at best underrated, at worst misunderstood or ignored. Even those who would give him his due as an artist seem unaware of the depth and scope of his work. He has never lacked for illustrious admirers: during his lifetime, they included AE (George Russell), Yeats (who said that O'Connor was doing for Ireland what Chekhov did for Russia), V.S. Pritchett, Sir John Betjeman, Elizabeth Bowen, William Maxwell. Contemporary novelists Julian Barnes and Richard Ford have written admiringly of his work, but such endorsements do not insure that a writer will continue to be read, nor do they make for an informed audience.
In America, O'Connor is best known for "Guests of the Nation" and "My Oedipus Complex," the latter story once required reading for college freshmen both in English and psychology classes. However, aberrations crop up: once, when I mentioned his name to a well-read English professor, I was asked if I was referring to Ayn Rand's husband. I expected that O'Connor would be better-known in Ireland, for several of his stories are part of the school curriculum. His name was better-known, although the reaction among those not in academia was either to praise "Guests of the Nation," or to say enthusiastically, "Oh, yes! That's the man who wrote the grand story about the confession!" But O'Connor published two hundred stories, two novels, plays, poetry, translations, literary criticism, journalism, and cultural history, broadcast on radio and television, so one would hope for a broader awareness of his work.
That he wrote short stories may be at the root of such apparent impermanence, for they are often first presented in magazines, which are by definition disposable, and collections of stories are perceived by publishers and readers as less significant than novels, as if artistic merit could be weighed. But his reputation, paradoxically, is also shaped by the fame of his three or four most famous (and thus most reprinted) stories – a narrow slice of his forty-year publishing career, which has come to stand for the totality. No one could call "Guests of the Nation" dated, lacking in political awareness, excessively light, bright, or sparkling, but such glib characterizations have become the casual response to much of his work.
Knowing little more than "First Confession" and "My Oedipus Complex," some readers have assumed that O'Connor's narrators are all little boys, their conflicts trivial domestic dramas, easily and humorously resolved by kind adults in a few pages. To those readers, his work seems to chronicle nothing more serious than hurt feelings. Yet most of his stories depict adults in situations no one would minimize: the stretched-to-breaking marriage, the shame of illegitimacy and the abandoning of a baby in "The Weeping Children"; a fatal illness and heartbreaking betrayal – its cause a religious conversion, not adultery – in "The Cheat," despair that leads to insanity in "The Bridal Night," incurable loneliness in "The Party" and "The Frying-Pan," as well as many other stories. These stories transcend the schoolyard and the kitchen.
Even though O'Connor's books were regularly banned as indecent (as recently as 1961) by a puritanical government, his stories might also seem distanced from contemporary experience because his fiction is superficially genteel, not graphic; when his characters find themselves in bed with one another, the text does not linger over the details. Some of the dilemmas characters encounter do seem from another world: Phil, in O'Connor's 1932 novel, The Saint and Mary Kate, insists earnestly that he could not kiss a girl without intending to marry her. Although we are meant to take Phil's declaration as old-fashioned (Mary Kate does), that O'Connor could depict such a character in the twentieth century might stamp his writing as historical. But readers who think this have the same trouble with Flaubert or Tolstoy, wondering irritably why Emma and Anna do not get the marital counseling they need. Too, O'Connor's characters inhabit a universe where morality has not been discarded as irrelevant; their lives are hard but existential dread is not their first response. Happiness is possible, although grief and shame are also; characters are capable of growth and self-recognition; they perceive belief in God as valid, not an empty gesture. Ultimately, O'Connor's fiction insists that we not reduce morally complex situations to easy answers and happy endings.
Some readers recognize this and celebrate it. Sam Thompson, reviewing a new collection of stories in the Times Literary Supplement in September 2005, wrote:
There is something unassuming about Frank O'Connor's writing, and this is integral to his mastery of the short story. A volume of O'Connor's stories is a tight packet of other people's lives, in which the author often comes across as a perceptive, sympathetic absence, precisely attuned to his subjects' personalities and peculiarities, their desires, despair and patterns of speech, but not presuming to comment on the machineries of fate that he lays open – except in the stories that run close to autobiography, which are full of self-deprecating irony. O'Connor's writing is self-effacing in its craftsmanship, too. His prose has a conversational ease rooted in oral storytelling, and modestly conceals the hard, perfectionist artistry that he achieved by working his stories through twenty or fifty drafts.
Since his death in 1966, O'Connor has been in print comparatively little, especially on this side of the Atlantic, but he was one of the foremost men of Irish letters in the early years of the Free State: he ran the Abbey Theatre in Dublin alongside W.B. Yeats, and published around 200 short stories, as well as novels, memoirs, plays, poetry, translations from Irish, travel writing, essays and biography. Penguin have now issued a [new] selection of O'Connor's stories, My Oedipus Complex . . . along with a combined edition of his two volumes of autobiography, An Only Child (1961) and My Father's Son (1968). The stories are introduced by Julian Barnes and the memoirs by Declan Kiberd, which is a representation of how Frank O'Connor looks today: able to hold his own in the context of contemporary fiction, but also assured of his place in the history of Irish literature.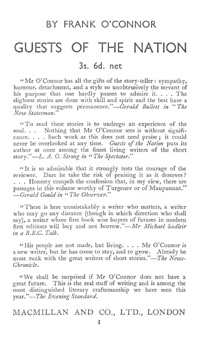 Writing of that same collection, Hermione Lee praised O'Connor as a "magnificent, eloquent and haunting story-teller." But the best tribute to his universality may be this news story, "Soldiers chalk up a success with literature classes" (Irish Times 10 Oct. 2005):
Volunteers from the Irish battalion based near Monrovia have begun teaching young Liberian teenagers living in internal displacement camps about Ireland's literary greats. The teens have been displaced due to the country's civil war.
The volunteers are using old Irish textbooks as well as copybooks, pencils and pens that have been donated from a number of schools around Ireland as part of English classes they hold on Saturday and Sunday mornings.
Liam O'Flaherty's "His First Flight" and Frank O'Connor's "First Confession" are among the short stories in the secondary school textbook Exploring English I which the troops are using in the classrooms.